34 Acre Coffee and Fruit Farm near San Isidro
Video: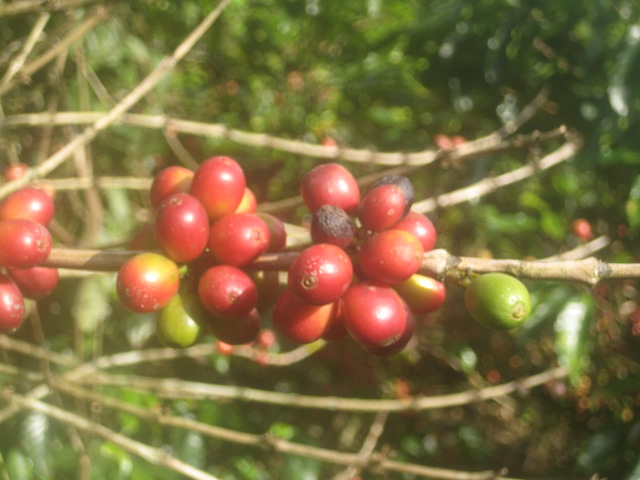 Quality coffee beans are sold to local producer in San Isidro.
Full Description
:
This beautiful working farm is located just 20 minutes from the center of San Isidro General and has I.C.E. power and its own spring feed water source. The farm is in the rural area of El Roble and can be accessed from either direction through La Palma or Santa Rosa.
The property has acres and acres of coffee that is sold to a local producer in San Isidro and there are also numerous acres of bananas on the farm. Other fruits and vegetables are scattered throughout the property for personal consumption such as: mangos, oranges, mandarins, avocados, yucca, guava, cashews, momones, cas, beans, and more. Towards the top of the property and also along the creek that borders one side there are forested areas for trails and plenty of wild life. The Howler Monkeys were even heard in the distance as we were walking the property, a true rarity this close to the city!
There is a rough private interior road that is used for harvesting the coffee and bananas, which could be improved to access lots or homes on the farm in the future and easier for pulling development permits. Would be perfect to develop into large country estate lots or kept as an ultra private residence with all the fruits and veggies one would need and continue the coffee and banana production as a side business.
The Rio San Antonio is across the street from the entrance and there are clear inviting swimming holes nearby to enjoy. This is country living at its finest!!
Property Size
: 140,000 m2 / 14 hectares / 34.5 acres
Nearest town
: San Isidro
Neighborhood
: El Roble
Price
: $400,000
---
Luxury
: No
---
---
Agent Info
Listed by:
Administrator allside
|
Contact Agent
| |